Lost and Found Please remind your child to look in the lost and found if they are missing coats, water bottles, lunch boxes, etc. We will be cleaning out the lost and found closet next week and donating items to a local organization.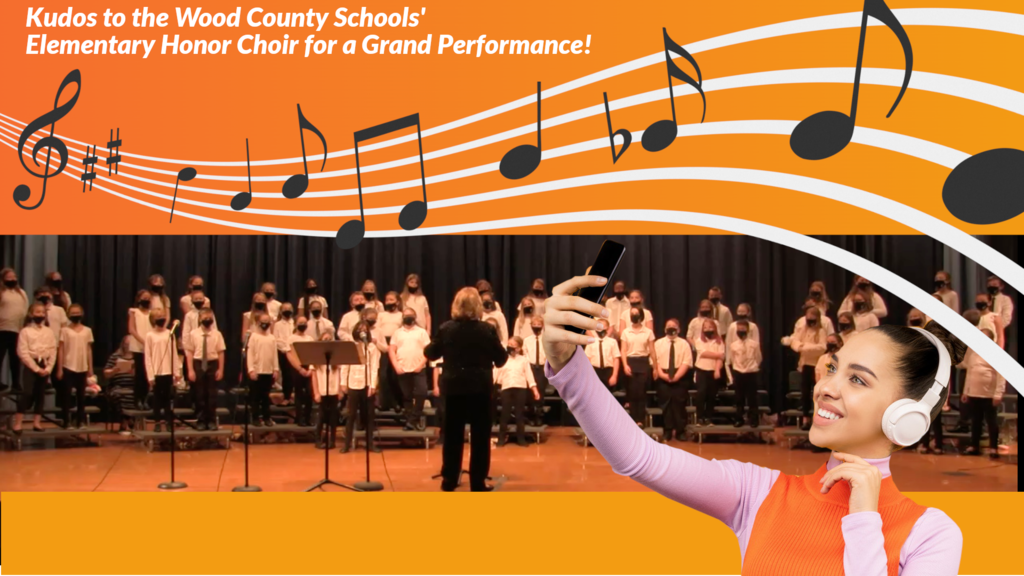 Reminder: School pictures are tomorrow (November 8th) for all students and staff. Order forms are available in the office or can be purchased online.
Winter Sports Information All students must have a 2.0GPA and current sports physical on file. Girls 6th - 8th Grade Basketball Tryouts are Monday, November 1st and Tuesday, November 2nd from 3:30pm - 5:30pm Boys 6th Grade Basketball Tryouts are Monday, November 8th and Tuesday, November 9th from 3:30pm - 5:00pm Boys 7th and 8th Grade Basketball Tryouts are Monday, November 8th and Tuesday, November 9th from 5:00pm - 6:30pm Wrestling practicing will begin Monday, November 1st from 3:30 - 6:30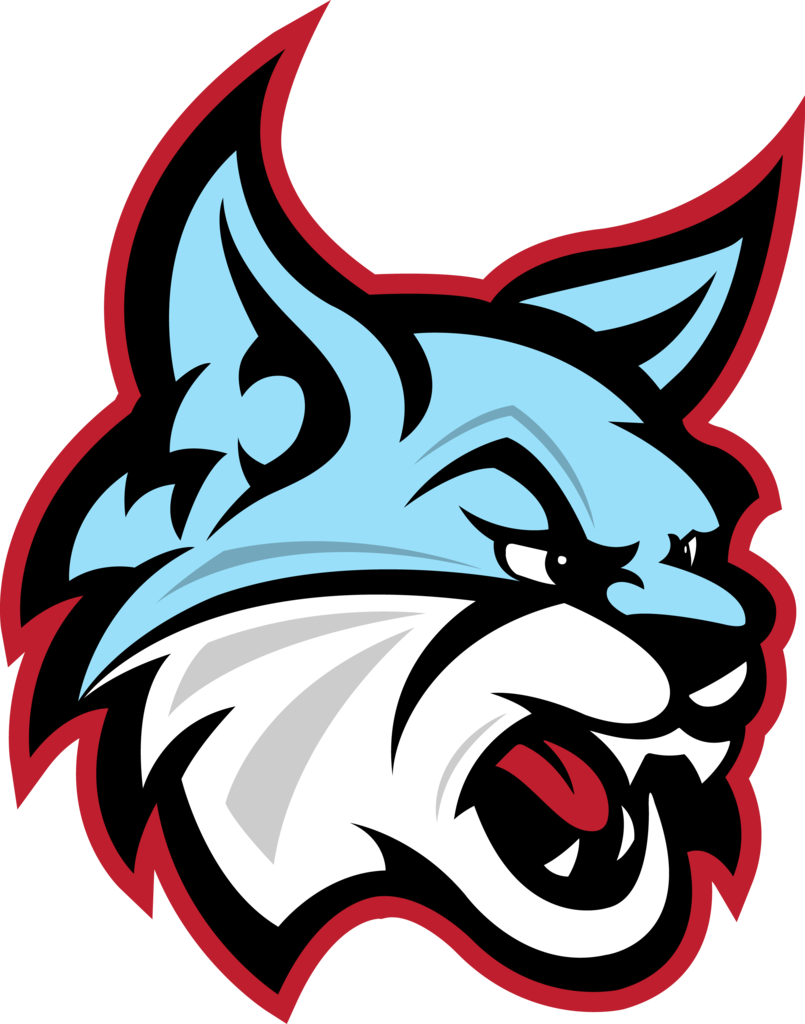 Help support our PTSA with the Fall Fundraiser!!!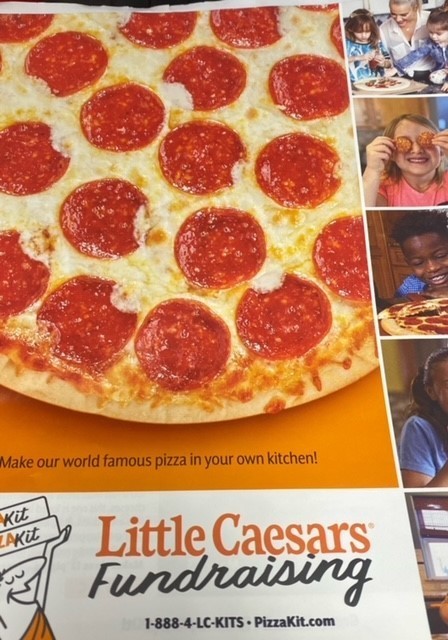 Red Ribbon Week begins Monday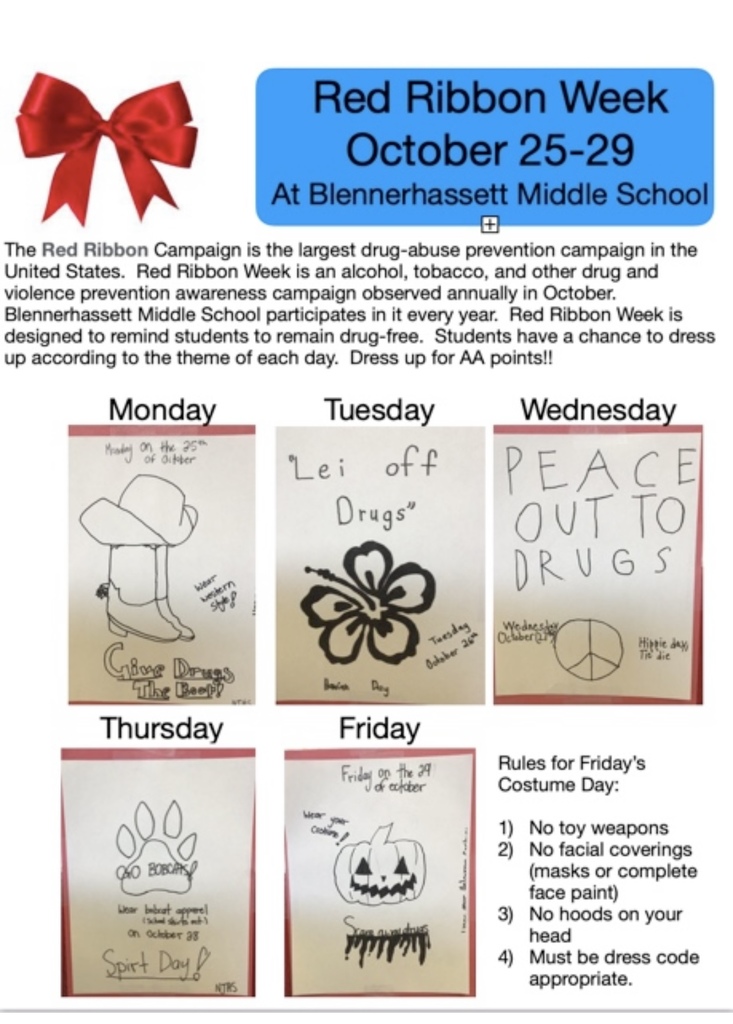 I would like to congratulate all BMS students, staff, parents, and community on the growth we have made in the last 4 years. According to schooldigger.com, BMS has moved up 12 places from last year and 70 places from where we were 4 years ago. We are currently ranked 27th out of 171 middle schools in the state of West Virginia. This is a HUGE accomplishment that wouldn't be achievable without the help and support of each of you. Keep up the great work!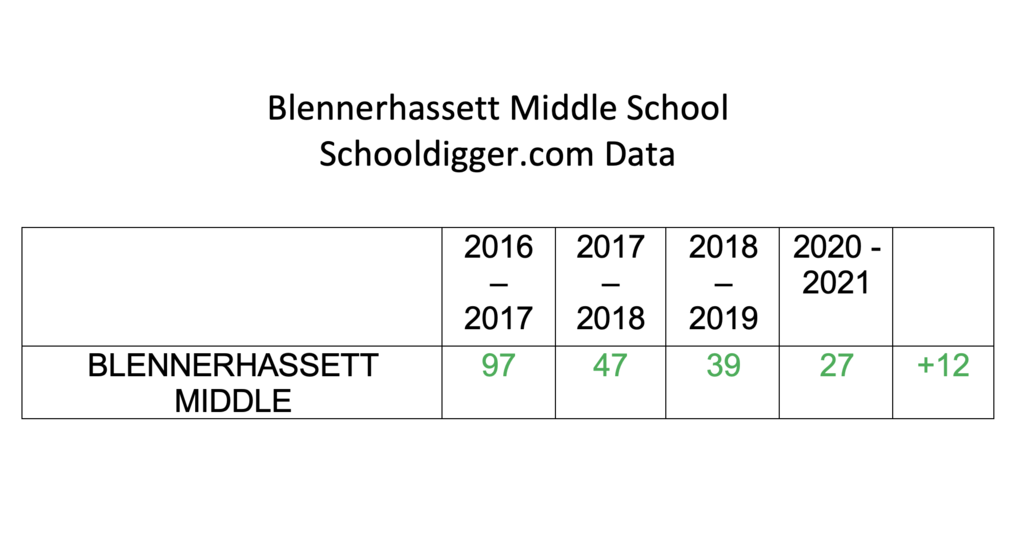 Yearbooks are in!!!! We will pass yearbooks out to students tomorrow and Friday during AA. Students who are at South may pick up yearbooks in the office. If you don't pick them up by September 24th, we will send them to South to be handed out. There are a few extras that may be purchased in the office. Softcover yearbooks are $20 and hardcover yearbooks are $25.
Tutoring Opportunities at Blennerhassett Middle School: We are excited to begin offering before and after school tutoring to help students in English/Language Arts and Math. Tutoring will take place in the library every Tuesday, Wednesday, and Thursday. If you are interested in your child receiving extra help, please complete the link below. Forms will also be sent home tomorrow with students for parents who may not have internet. You do not have to complete both the online form and the paper form.
https://docs.google.com/forms/d/e/1FAIpQLScu3SJaASmSpjMat_kW_OgO5U4YQKC0y60QduSbJJBM5k64JA/viewform?usp=sf_link
Good Evening, Blennerhassett Middle School will be open on Tuesday for in person learning. We will be implementing the following mitigation strategies: 1) Water fountains will be closed. Water bottle filling stations will remain open. Students are asked to bring a water bottle to school each day. 2) Students will carry backpacks and not use lockers for the next 2 weeks. 3) Students and staff will wear masks when in the building. 4) Students will be socially distanced to the best of our ability. 5) Students will use hand sanitizer when entering classrooms. 6) Desks and tables will be sanitized between each class. 7) Custodians will be deep cleaning all classrooms and high traffic areas each night. If you child is sick or has a fever, please keep them home and monitor their symptoms. Parents have 5 parent notes per semester for excused absences. We appreciate everyone's patience and understanding as we stay committed to providing your child with the best education possible while keeping them safe.
Good Evening, As Mr. Hosaflook stated in his message earlier, Blennerhassett Middle School will be remote learning tomorrow (Friday, September 3rd) for all students. Teachers will have TEAMS meetings with each of their classes at their regularly scheduled times. These TEAMS meetings and activities are for all students (including those in quarantine). Please see the schedule below. Students will follow their normal schedules (all 4th period will be 11:00 – 11:45) a. 1st – 8:00am – 8:45am b. 2nd – 8:48am – 9:33am c. 3rd – 9:36am – 10:21am d. 4th – 11:00am – 11:45am e. Lunch Break 11:45am – 12:45pm f. 5th – 12:48pm – 1:33pm g. 6th - 1:36pm – 2:21pm h. 7th – 2:24pm – 3:09pm All assignments will be posted in Schoology by 8:00am on Friday Parents and students can come to the school from 11:00 – 12:45 to pick up a grab and go meal which will include a breakfast and a lunch. Students who do not have access to the internet may come to the school and pick up a packet. Packets will include ELA, Math, Science, and SS. Parents may also come to the school and connect to the internet from the parking lot. ALL athletic practices are cancelled for Friday We will continue working with the Health Department to make decisions to keep all students and staff safe. Thank you for your patiences and understanding.

Blennerhassett Middle School will be closed Friday, Sept. 3, due to a surge in cases of Covid-19 among students. Officials will be working on contact tracing this evening and tomorrow to inform families of students who must quarantine. Contact tracing is an intensive and time-consuming process, so we ask for patience and cooperation from our school family during this time. All schools will be closed Monday, Sept. 6 for Labor Day. Wood County Schools will update parents on the status of classes at Blennerhassett Middle School prior to the start of the new school week. Mrs. Arthur, Principal of Blennerhassett Middle School will contact parents and guardians concerning instruction options during the temporary closure later this evening. We apologize for this inconvenience. Wood County Schools is doing everything it can to provide a safe learning environment for our students and to return them to in-person instruction as quickly as possible. Thank you and have a wonderful evening.

Tonight, the Wood County Board of Education voted to require face coverings for all students and staff while indoors and on buses beginning tomorrow, August 31, 2021. Please read the article and guidelines at
https://tinyurl.com/ye3dqy72
Calling all students… Auditions for High Musical Jr begin tomorrow (Thursday) and Friday at 6:00pm in the Auditorium at Blennerhassett Middle. Any student in grades 6-8 is welcome to come and audition. We are looking forward to another great show!!
Picture Day is September 3 at BMS. Order forms are in the office and will be sent home this week. You can also order online with the code below.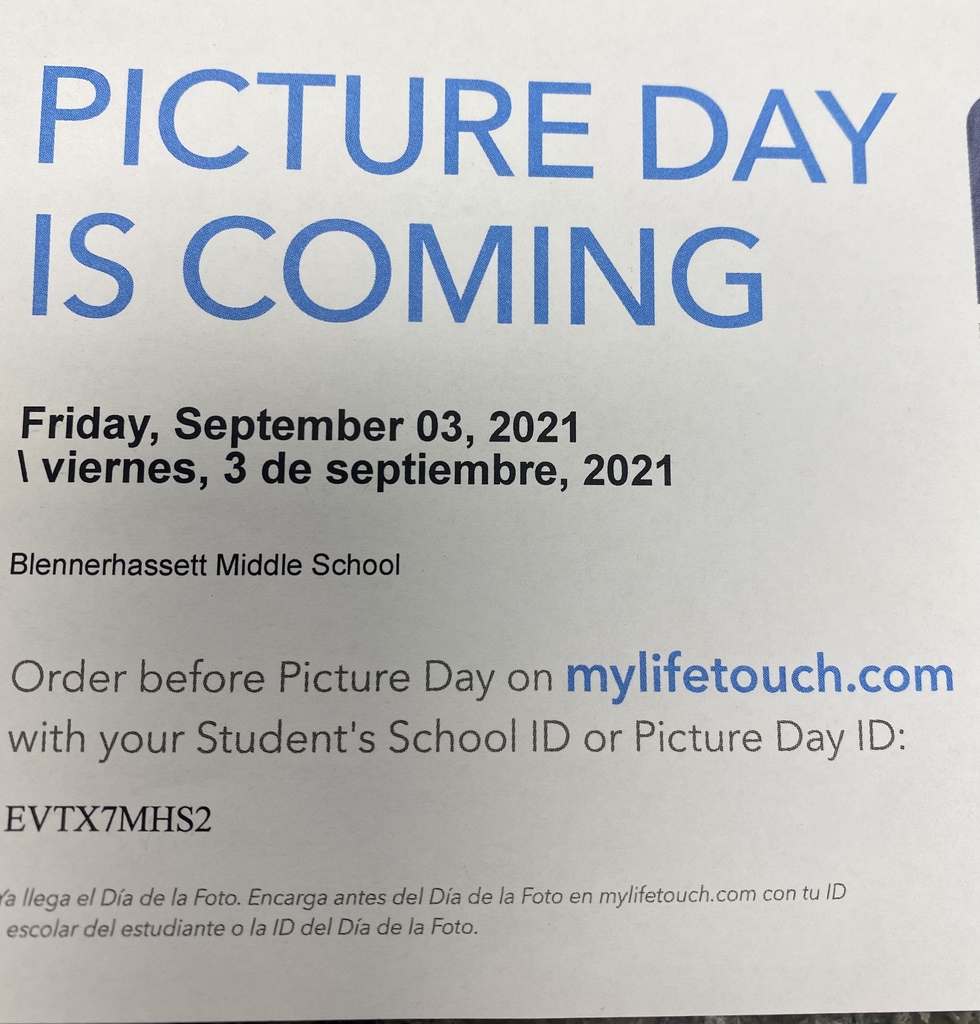 Weekly Update/Reminders Please send back the Acceptable Use Policy (AUP) tomorrow with your child if you haven't already done so. Students will not be given an iPad until we have a signed AUP. Volleyball tryouts are tomorrow (Monday) at 3:30 at BMS Cheerleading tryouts are tomorrow (Monday) at 5:00pm at BMS IReady Benchmark testing will take place on Tuesday for all students. We will have our first Bobcat Bash on Friday. All students will be able to participate. Students in grades 7th and 8th will begin going to the Caperton Center on the WVU-P campus beginning September 2nd. More details will follow next week. Students who wish to have a schedule change must do so by Friday, August 24th. Course request forms can be found in Mrs. Fling's office. No schedules will be changed after Friday.

Good evening. Tomorrow brings much anticipation with the start of a new school year. I am so excited to see our students and employees back in our buildings as we work together to become the # 1 school district in the state of West Virginia. We are so fortunate to have a wonderful community of parents and guardians that understand the importance of a first-class education and are willing to go above and beyond to ensure the success of our students and schools. However, we know there is a lot of work to complete. This summer, WCS has equipped schools with essential personnel for targeted intervention, created a STEAM Academy for middle school students, and continued to upgrade our facilities to provide the most conducive environments possible in our schools. We are very excited to see the new school year begin. I encourage each of you to review our re-entry guidance document located on our webpage at
https://tinyurl.com/yhq2qwgb
. As you know, directives can change quickly with little notice. I will do my best to communicate changes to you as directives are received. I encourage all parents and students to follow the recommendations in the guidance document including, but not limited to - wearing a mask, staying socially distanced, and practicing good, hand-washing hygiene. As always, I ask for your patience on the first day of school. There are many moving parts that we will continually perfect throughout the year. Once again, thank you for your support and encouragement as we start another exciting school year. Thank you for all you do and have a wonderful evening.
Attention ALL Students grades 6-8: Please join us at Open House on Tuesday, August 17. The hours will be from 4:45 - 6:45 pm. Advisory lists will be posted on the front window by the cafeteria. We are looking forward to a great year! Reminder - 6th Grade Orientation is Monday, August 16th from 5:30-7:30. Everyone will report to the auditorium at 5:30.