Annual Craft Fair this Saturday 9am-3pm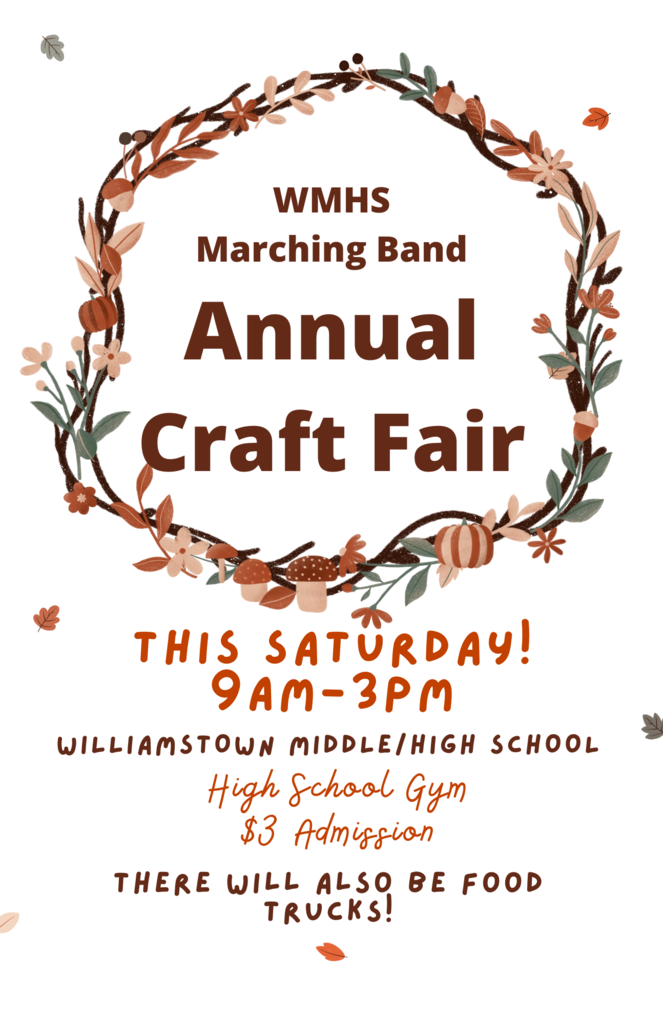 Wood County Schools has made a change regarding the caller ID number for all mass calls and texts in which we want you to be aware. Previously, all mass calls made from Wood County Schools, used for emergencies or other important information, whether from the central office or from any individual school, used the number (304) 420-9520 for the caller ID. Starting today, all school mass calls will show a caller ID number that is the same as the school's main telephone number. District calls will continue to show a caller ID of (304) 420-9520. The caller ID number for any individual school may be verified by visiting the school's webpage and finding the phone number in the footer of the page.

Congratulations to our August Students of the Month! In addition to their certificate, each student received a gift card from Da Vinci's, and a shirt of their choice provided by BSN Sports! 12th grade - Riley Oblisk 11th grade - Isaac Sullivan 10th grade - Pressley Lukasiak 9th grade - Grace Boone 8th grade - Taylor Weppler 7th grade - Hailey Barnes 6th grade - Jack Strauss

National Honor Society Dues need to be paid by November 1st!

This Friday's home football game will be played at PHS. Kickoff will be at 7:00. We will also be recognizing our football, cheer, golf, and cross country seniors before the game; and our band and Jacketts will be honored at halftime. Please continue to come out in support of these kids. We will again postpone our super booster reception/ceremony. Tonight's JV game will be played at home. All fans will utilize the away bleachers.

We just received the all clear! So all activities will resume as normal, and our parade will begin at 1:30PM!

At this time due to a high speed chase, we have the school in a "lock-in." Meaning no one will be allowed in or out of the building at this time until we get an all clear. All students are inside and safe. Further announcements will come concerning the parade as we gather all information.
Additional information for tomorrow's football game. 1. Parking will be available off of fourth street. Donations for parking will be collected by the middle school wrestling team. There is also some street parking available around the stadium. 2. The only entrance will be located underneath the home bleachers. 3. NO ONE will be permitted inside the stadium area until 6:00 pm. 4. Kickoff will be at 7:15 with Homecoming festivities occurring at halftime. 5. All passes that are accepted at our home sporting events will be accepted tomorrow.
Update: This Friday's Homecoming game against Weir will be played at Marietta. Kickoff will be at 7:15. The gates will open at 6:00. Fans will NOT be able to enter the stadium before 6:00. As a reminder tickets are being pre-sold on our GoFan site. Our homecoming parade will take place at 1:30, as planned. The middle school dance will still begin at 9:00 pm in the middle school gym. Tickets for both dances can be purchased online on our GoFan site, or at the door.
https://gofan.co/app/school/WV2669

WMHS: Please read this form about joining the Academic Boosters. We are fortunate to have hard working members who help us celebrate academic successes. We would love to have more individuals sign up and join a great team!
https://5il.co/1iu7c

WMHS: Be sure to check out this exciting opportunity Mrs. Fauber is providing for the summer of 2023!
https://5il.co/1iupf


Reminder to parents of seniors: a financial aid workshop will be held Tuesday, October 4 at 6:00 pm at the school. A representative from the WV Higher Education Policy Commission will provide assistance with the FAFSA at this workshop. Please create an FSA ID for your child and one parent asap because it takes 2-3 days to process it and you will need it for Tuesday.
Reminder: Tonights rivalry game against St Marys will be held at PHS. Kickoff time is 7:00. There will be an awards presentation by the WVSSAC before the start of the game. Tickets for tonight can be purchased online at
https://gofan.co/app/school/WV2669
. We will also be accepting credit/debit and cash at both gates. Please join us to cheer our boys on to victory!

I just want to brag about our Algebra students in ALEKS, the online math skills practice system, which supplements the great instruction provided by our math department. WMHS has the top 3 spots and 5 of the top 8 county-wide in terms of improvement from their initial skill level!

Events for Week of Sept. 19 9-19 Monday LKC Golf Tournament M.S. Tennis @ Jackson M.S. Volleyball @ Jackson JV Volleyball @ Tyler Co. JV Football @ Wahama 9-20 Tuesday 1st Nine Weeks Mid-Terms M.S. XC @ Iron Kid Varsity Volleyball vs. Roane Co Varsity Soccer @ Tyler Co. 9-21 Wednesday MS Golf @ Woodridge Golf Club Varsity Golf @ Sistersville Country Club 9-22 Thursday MS Golf Scramble @ Oxbow Golf Course MS Volleyball vs. Marietta Varsity Volleyball vs. Ritchie Co. MS Football vs. Ritchie Co Varsity Soccer @ Roane Co 9-23 Friday Varsity Football @ Marietta 9-24 Saturday MS Volleyball @ PHS Varsity Volleyball @ Huntington XC @ Ripley Covered Bridge Varsity Soccer vs. Philip Barbour
Reminder to parents and students: Students are not permitted to leave campus once they arrive unless they have written permission from a parent/guardian. (See sign in/out procedures in the student handbook, on our website.) This includes students over the age of 18. Additionally, all students grades 6-12 have a closed campus lunch. Students may not leave campus for lunch unless their parents physically come and sign them out of school, in order to sign back in, the parent will need to write a note for the missing period. (Reminder: 5 Parent notes are allotted per semester for absences.) Students are not permitted to go to lunch with a parent of another student or relatives who are not parents or grandparents.