Have a Question or Problem about School Matters?
Welcome to our step-by-step guide to solving problems and getting answers in the Wood County Schools system.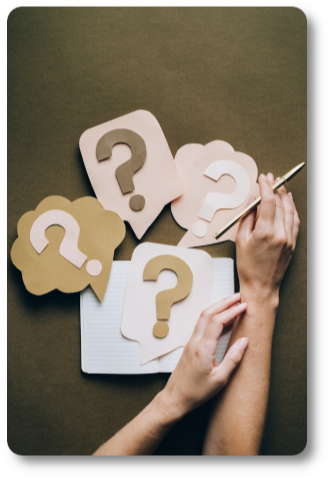 At Wood County Schools, we do our best to ensure our students receive a high quality education in a safe learning environment.
We know there are times, however, when you have questions or concerns involving your child.
It is important for you to follow the proper channels in directing your inquiry. By following the steps outlined, you will avoid possible unnecessary misunderstandings and delays.
If your concern cannot be resolved informally following these five steps, the Conflict Resolution Process for Citizens (WVBOE Policy 7211) can be utilized to resolve your concern.
SECTION 504 POLICIES AND PROCEDURES
Wood County Schools has revised its Policies and Procedures for Section 504. These can be found here.
Speak first with the school employee directly involved with the event or decision in question - the teacher, the bus driver, etc. You may find there has been a simple misunderstanding.
Talk with the school principal or employee supervisor if necessary.
If your question or problem is not resolved by meeting with the principal or supervisor, call the Wood County Schools' Central Office representative who oversees the appropriate area of concern (see list below).
Meet with the Superintendent of Schools if you feel the matter is still unresolved after following steps one, two and three.
Contact one or more school board members (see list below). Use this action if you feel steps one through four have not resolved your problem.
Central Office Representatives
For names with an extension number, please use phone number (304) 420-9670.
Superintendent of Schools
Christie Willis, Ext. 125
Attendance/Home School
Chris Rutherford, Ext. 157
Early Childhood
Melanie Cutright, Ext. 157
Elementary Schools
Justin Hartshorn, Ext. 165
Federal Programs/Title 1
Tammy McKnight, Ext. 133
Food Service
Hollie Best, (304) 420-9631
Information Technology
Jonathan Farley, (304) 420-9510
Insurance
Nicholas Townsend, Ext. 146
Health Services
Julie Bertram, Ext. 180
Human Resources
John Merritt, Ext. 152
Maintenance
Martin Best, (304) 420-9568
Math and Science Curriculum
Jason Potts, Ext. 160
Purchasing
Amy Nahley, Ext. 168
Reading/Language Curriculum
Ashlee Beatty, Ext. 160
Secondary Schools
Kennith Cook, Ext. 165
Special Education & Section 504
Yvonne Santin, (304) 420-9655
Support Services
Mike Fling, Ext. 119
Technical Center
Dr. Jason Hughes, (304) 420-9501
Technology Integration Specialists
Eric Murphy, Ext. 129
Jimmy Stewart, Ext. 129
Transportation
Regina Graham, (304) 420-9636
Treasurer
Whitni Kines, Ext. 167
The Wood County Schools' Board of Education meets at 6:00 p.m. on the 2nd and 4th Tuesday of each month. Meetings are typically held in the Bailey Conference Room in the Board of Education Central Office facility at 1210 13th Street in Parkersburg and online. Call (304) 420-9663, extension 125, to confirm, or check the Wood County Schools events page.
About Wood County Schools
As we prepare for the incoming classes of Pre-Kindergarten and Kindergarten students, and the Class of 2023, we begin with great appreciation of our community that has built and supported our schools for generations. Educators, parents, business and community leaders of all ages have come together to build strong schools, which in turn builds strong communities for people to enjoy and thrive. Working together, we have created schools where high expectations lead to all students achieving their goals. We must continue to do more than imagine what our children will do to keep our nation strong. We must ensure that they have the foundational tools they need to carry on the legacy for generations.
As educators in Wood County, we do have challenges that require innovative solutions and decisive actions, but with these challenges comes an opportunity to build a better, more efficient and effective educational delivery system for our students. With great anticipation, we look forward to the year ahead and with your continued support and hard work, we can assist our students in meeting and exceeding their goals.
Thank you for continuing to support our students, educators, and school communities.
Justin Raber
President
(304) 488-0552
Debbie Hendershot
(304) 615-2178
Judy Johnson
(304) 464-5145
Ron Tice
(304) 428-6228
Sarah Townsend
(304) 580-6655
Christie Willis
Superintendent

Wood County Schools

1210 Thirteenth Street
Parkersburg, WV 26101

Phone: (304) 420-9663
Fax: (304) 420-9033
As required by state and federal laws, the Wood County Board of Education does not discriminate on the basis of race, religion, color, national origin, ancestry, sex, age, blindness or handicap in employment or in its educational policies and activities.