Understand Offer versus Serve (Middle School & High School)
Federal guidelines determine what constitutes a complete breakfast and lunch. Only a complete meal qualifies for reimbursement from the State and Federal government.Wood County schools follow the Offer Versus Service Provision for school meals offered in middle and high schools.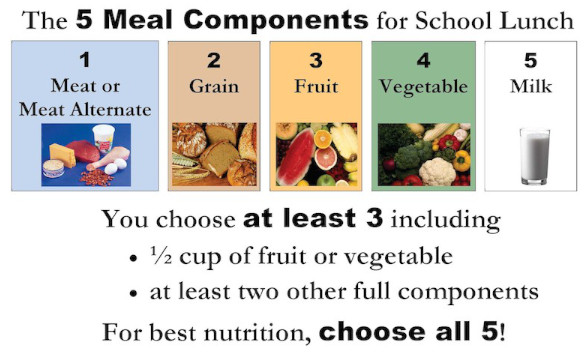 What is offer versus serve?
Offer versus Serve gives students the opportunity to choose only those foods which they intend to eat in the School Breakfast/Lunch Program. This feature of the National School Breakfast/Lunch Program is designed to reduce food waste and give students the opportunity to select only the foods they enjoy.Lunch consists of 5 food components: meat or meat alternate, vegetable choices, fruit choices, bread or grain items, and milk. Many main entrée items count as the meat / meat alternate and grain item and are considered two food components. To be considered a reimbursable lunch, a student must take a minimum of three of the five food components. One of the three food items must be a half cup of a fruit or vegetable or a combination of the two.
Breakfast consists of three food components: a grain (a meat or meat alternate may be substituted for part of the grain), fruit/juice/vegetable and milk. Under offer vs. serve, the meal must contain 4 food items from the three food components. To be considered a reimbursable breakfast, a student must take three of the four food items. One of the three food items must be 1/2 cup of fruit or vegetable.
If you have any questions, please contact:
Hollie Best
Child Nutrition Director
(304) 420-9670 ext. 161
e-mail