Wood County Schools received notice this afternoon of a possible online threat at Blennerhassett Middle School. A report on a student's social media post was sent to state officials through the SeeSend app. Wood County Schools administrators responded immediately and no threat was found at the school. The student identified in the report is not at school and law enforcement is investigating. Wood County Schools takes all threats seriously and works with state and local authorities to investigate every report. Student and staff safety is our top priority.

Wood County Schools is sponsoring a Vaping Prevention Poster Contest and a Video Contest giving students the opportunity to spread the message about the risks of vaping and nicotine addiction. Students are invited to create a video or a poster encouraging students to choose a healthy vape-free lifestyle. Learn more at
https://woodcountyschoolswv.com/page/vaping-prevention
.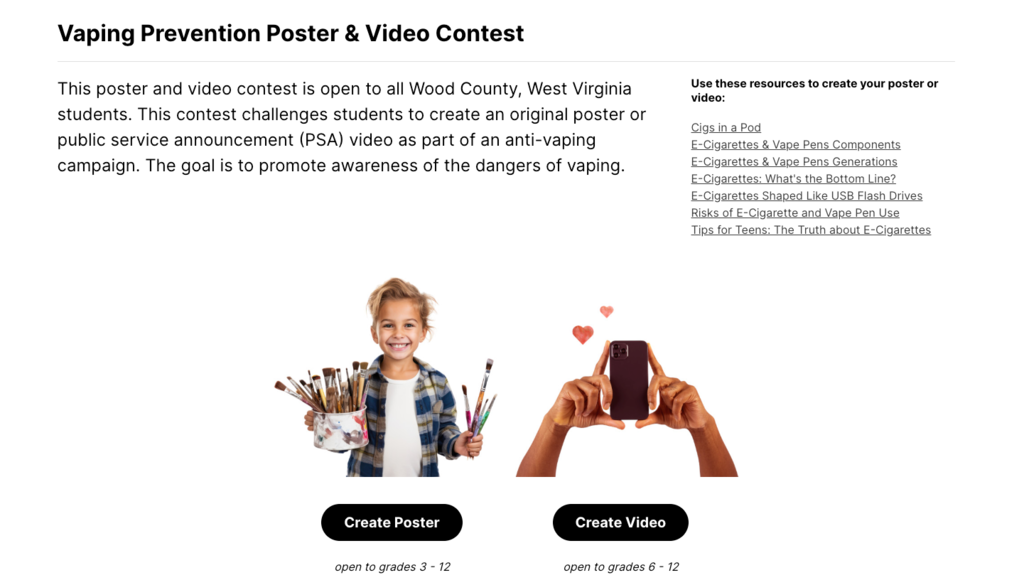 Wood County Schools will hold its first ever Job Fair for WCS positions from 11 a.m.-6 p.m. Thursday, Sept. 28 at Grand Pointe in Vienna! Learn about needed positions in Wood County Schools. Begin the application process for professional and service jobs. Full-time and substitute positions available, including: Bus Drivers Mechanics Custodians Aides Teachers Secretaries Cooks Nurses and More! THURSDAY, SEPT. 28 11 AM TO 6 PM GRAND POINTE CONFERENCE CENTER 1500 GRAND CENTRAL AVE. VIENNA, WV woodcountyschoolswv.com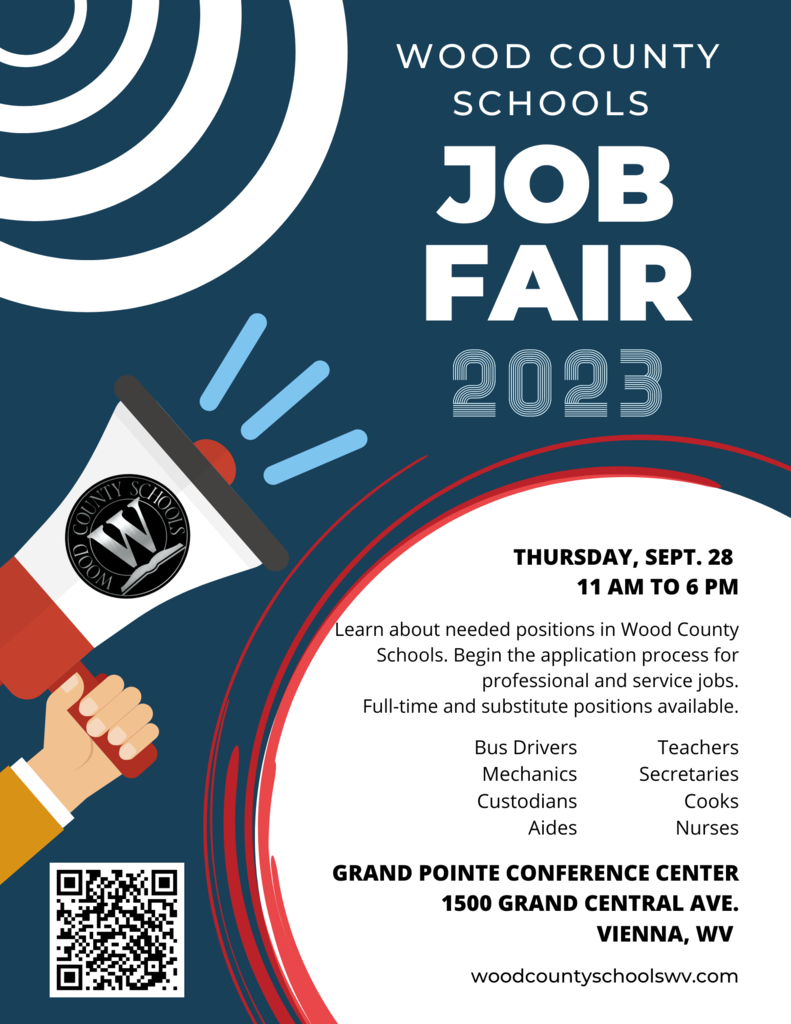 Wood County Schools will hold a job fair for WCS positions on Thursday, Sept. 28 at the Grand Pointe Conference Center in Vienna! Learn about needed positions in Wood County Schools. Begin the application process for professional and service jobs. Full-time and substitute positions available. Including: Bus Drivers Mechanics Custodians Aides Teachers Secretaries Cooks Nurses and more! THURSDAY, SEPT. 28 11 AM TO 6 PM GRAND POINTE CONFERENCE CENTER 1500 GRAND CENTRAL AVE. VIENNA, WV woodcountyschoolswv.com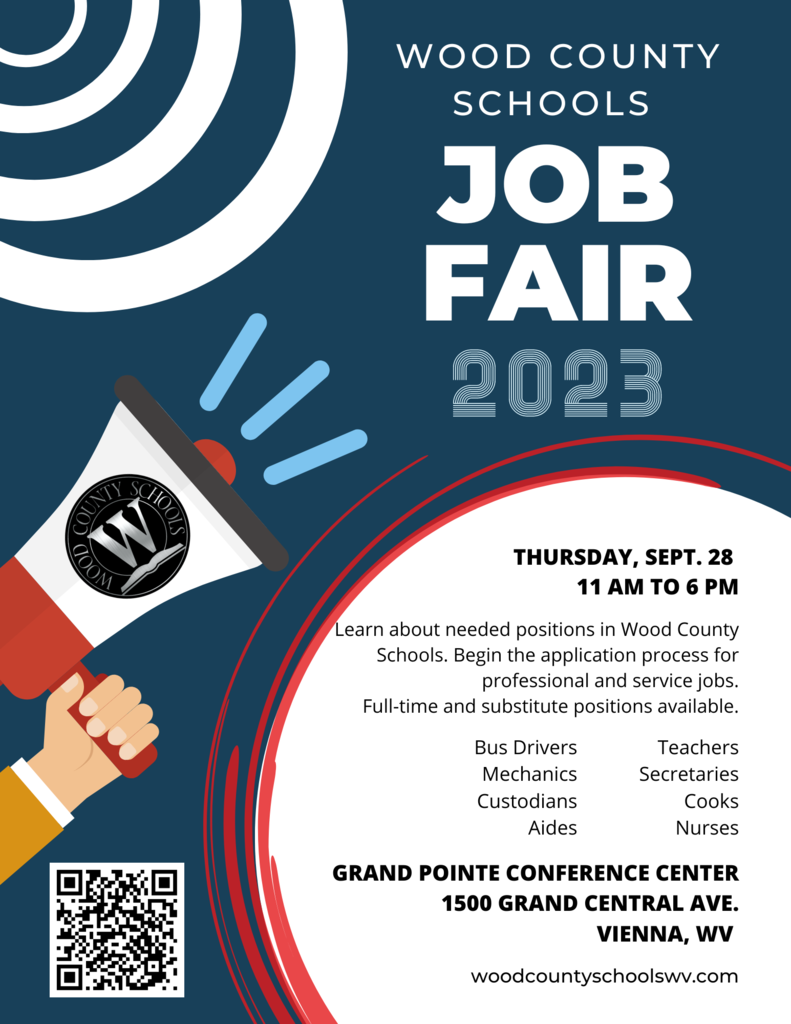 *Student Test Scores* In spring 2023, students in Grades 3 through 8 took the General Summative Assessment and students in Grade 11 took the SAT School Day assessment. On Tuesday, September 12, students will receive a printed copy of their individual student score report which will contain information regarding each student's performance on the tested areas. To further assist parents/guardians in understanding their child's performance on the WVGSA or the SAT School Day, the West Virginia Department of Education is providing an individual video score report for each student in addition to the printed report.. A link to your child's individual video score report will be sent to your child's K12 student email address on September 12th. Please work with your student to access the link in the email. When you click on the link, you will be taken to a site where you will need to enter your child's date of birth to access the video report. Resources are also available at that site to help your student. If you need assistance in locating the video score report link, or if you do not know your child's K12 email address or password, you may contact your child's school, or contact Cathy Grewe at the Wood County Schools Board Office at 304-420-9663 Extension 122.

The Parkersburg News and Sentinel is seeking nominees for Teen of the Week! Go to
http://tinyurl.com/2023-24TeenoftheWeek
to make your nomination. Nominees should be: * between the ages of 13-19 * live in the Mid-Ohio Valley * can be a public, private or homeschool student * have an interesting hobby or passion Though sports are part of a well-rounded student, the Teen of the Week focuses on academic and social activities which make the teen a standout among their peers! Academic achievement, unique hobbies and interesting activities will be highlighted!

Happy Labor Day! All schools and offices will be closed on Monday, September 4th, in observance of the holiday. We will see you back on Tuesday during normal hours.

Calling all readers! The final Golden Ticket Book Fair will take place TOMORROW! Bring your book logs and tickets to shop for new reading material! For more information about the Golden Ticket Summer Reading Challenge, visit
https://woodcountyschoolswv.com/goldenticket
.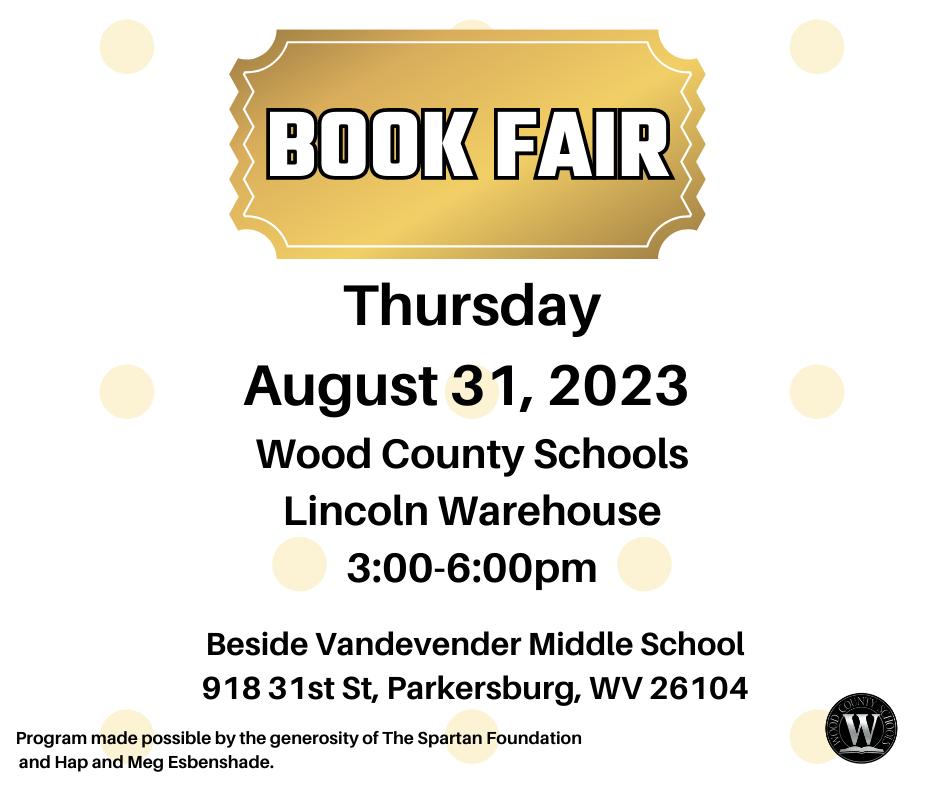 ***Storm Delays*** Good morning! This is Christie Willis, Superintendent of Wood County Schools. Buses are running their routes this morning. However, due to storms there are several buses delayed or unable to cross low lying creek areas. The following buses will be delayed: 49, 149, 154, 157, 162, 163, 172, 173, 175, 192, 199, 205, 210, 214, 216, and 236. No tardies will be issued today due to weather. Please be cautious on the roads and be safe!

Students return to school tomorrow! Safety will be top of mind. What can you do as a member of the community to ensure that our students arrive safely to school? Listen to our newest WCS Voices podcast episode featuring WCS Director of Transportation, Chad Bloss, and our Coordinator of Safety & Security, Don Brown, as we discuss simple strategies for making sure our students arrive safely at school.
https://woodcountyschoolswv.com/wcsvoices

An important message to parents of students entering 7th and 12th grades: All 7th and 12th graders are required to have completed the MCV4 and Tdap vaccines by the first day of school. If you have completed the vaccines over the summer break, please be sure that your school nurse has received a vaccine record.

SCREENING FOR CHILDREN ENTERING SCHOOL   Screening will be conducted by school nurses and other professionals during regular school hours in Wood County Schools for students entering school for the first time.   In addition, students entering parochial or other non-public schools will be screened. Screening will be done to identify problems in the following areas:  language, speech, hearing, and vision. Parents of public school students who do not wish to have their child participate in this screening should inform the principal of the school attended by the child. For more information, contact Wood County Schools Special Education Office at (304) 420-9655.

Sprinklers activated at Parkersburg High School PARKERSBURG - An accidental activation of the sprinkler system at Parkersburg High School set off alarms and soaked floors Sunday evening. Crews will be working overnight Sunday, Aug. 6, into Monday, Aug. 7, to clean up the water and determine the cause of the sprinkler activation. The water affected the PHS auditorium and the floors directly below the auditorium. Officials do not believe there was any fire or other emergency which caused the sprinklers to activate, nor were they activated by any person. More information will be released as it is available. Teachers are set to return to classrooms Aug. 17 and a county-wide open house will be held on Aug. 21. Students return to classes Aug. 23.

WES announces new principal, Facebook page WILLIAMSTOWN - Williamstown Elementary School is kicking off the 2023-24 school year with a new principal and new social media page. Lee Ann Cumpston is the new principal at Williamstown Elementary. This year will mark her 30th year with Wood County Schools. "I am a product of Wood County Schools," Cumpston said. "I attended Mineral Wells Elementary, Edison, and graduated from Parkersburg South High School in 1986." Cumpston has both a a bachelor's and master's degree from Marshall University (Elementary Education K-8 and Reading Specialist K-12) and has taught at multiple area schools as a Title I interventionist, reading resource teacher and Title I teacher. She achieved National Board Certification in Reading while teaching at Kanawha Elementary School Most recently Cumpston completed her 10th year as an administrator, the majority of those at Franklin Elementary Center. "Nine of my years in administration have been at Franklin," she said. "I spent two years as Assistant Principal of Curriculum and Instruction and seven years as principal." Cumpston said she is excited to work as principal at Williamstown Elementary School and to use her years of experience to benefit both her students and her staff. The school also will have a new Facebook page to help parents and community members to stay informed and share the accomplishments of WES students. The page can be found on Facebook by searching for "Williamstown Elementary School Yellowjackets" and via direct link at
https://www.facebook.com/profile.php?id=100094260651267
. Information on Williamstown Elementary can also be found online at
https://www.woodcountyschoolswv.com/o/wte
.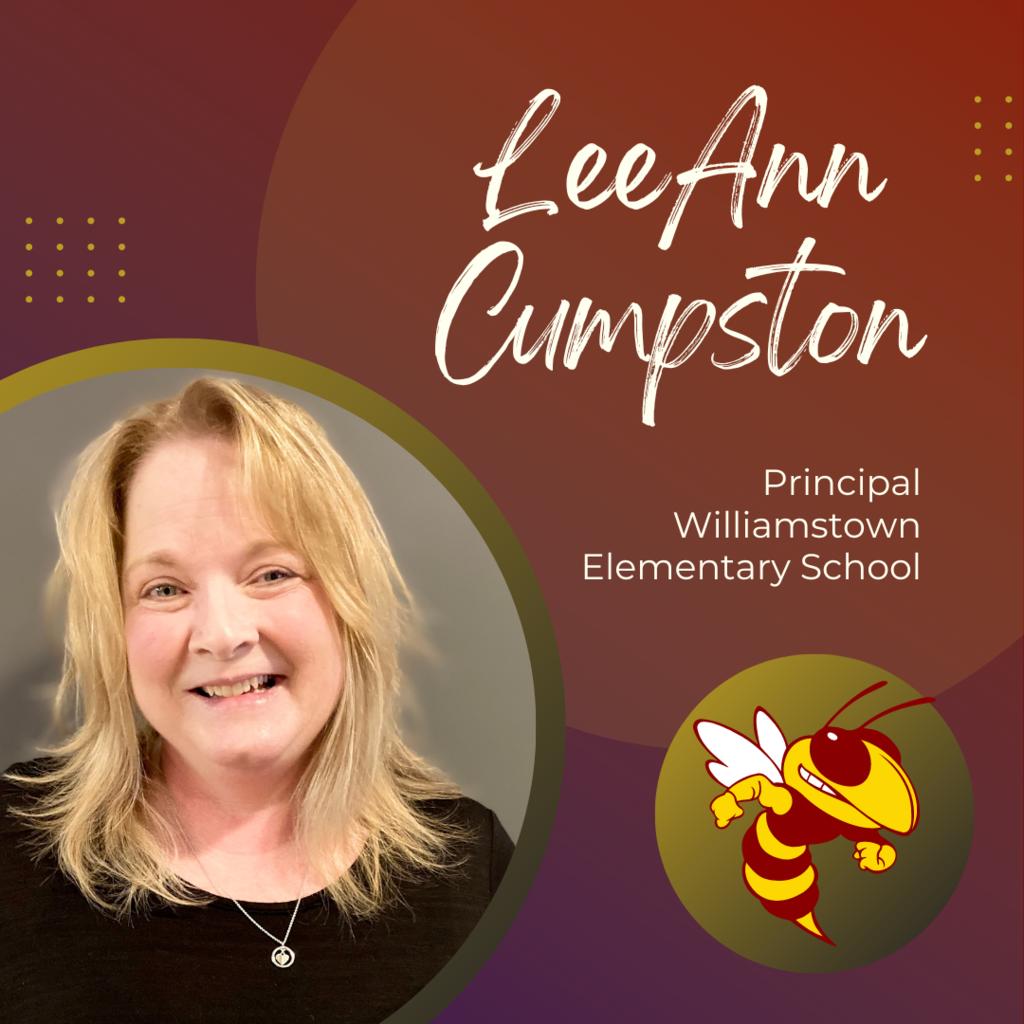 Wood County Schools will hold a county-wide Open House event Monday, Aug. 21! Elementary schools will be open from 4-6 p.m. Secondary schools will be open from 4:45-6:45 p.m. Join us as we celebrate our students, new and returning!

Good morning, An error caused report cards for middle school students at Williamstown Middle High School to not be sent to families at the end of the 2022-23 school year. The report cards have been reissued and should be arriving at homes this week or early next week. We apologize for the delay and inconvenience. Michael Erb Communications Coordinator Wood County Schools

Now Available: Explore the rich history of Wood County Schools through New Era School: A dialogue with Esther Carroll A one-room school building located on the Mineral Wells Elementary School campus serves as a connection to our past. This building, known as New Era school, has been transformed into a museum that showcases the educational community of the nineteenth century. Within the museum, there is an extensive collection of carefully selected materials that chronicle the history of schools in Wood County. The museum is accessible to the general public, offering both individual and group tours, including school trips. In the latest episode of the WCS Voices Podcast, Esther Carroll, a retired library media specialist from Wood County Schools, shares her insights. Ms. Carroll oversees the museum's operations and is responsible for curating historical primary sources and various media. Accompanying the podcast is the melodious mountain dulcimer music performed by Jerry Rockwell.
https://www.woodcountyschoolswv.com/wcsvoices

Looking for a way to practice math and reading over the summer? i-Ready is available to all students that finished kindergarten - grade 8 during the 2022-2023 school year. i-Ready Math and Reading will be available until July 31, 2023.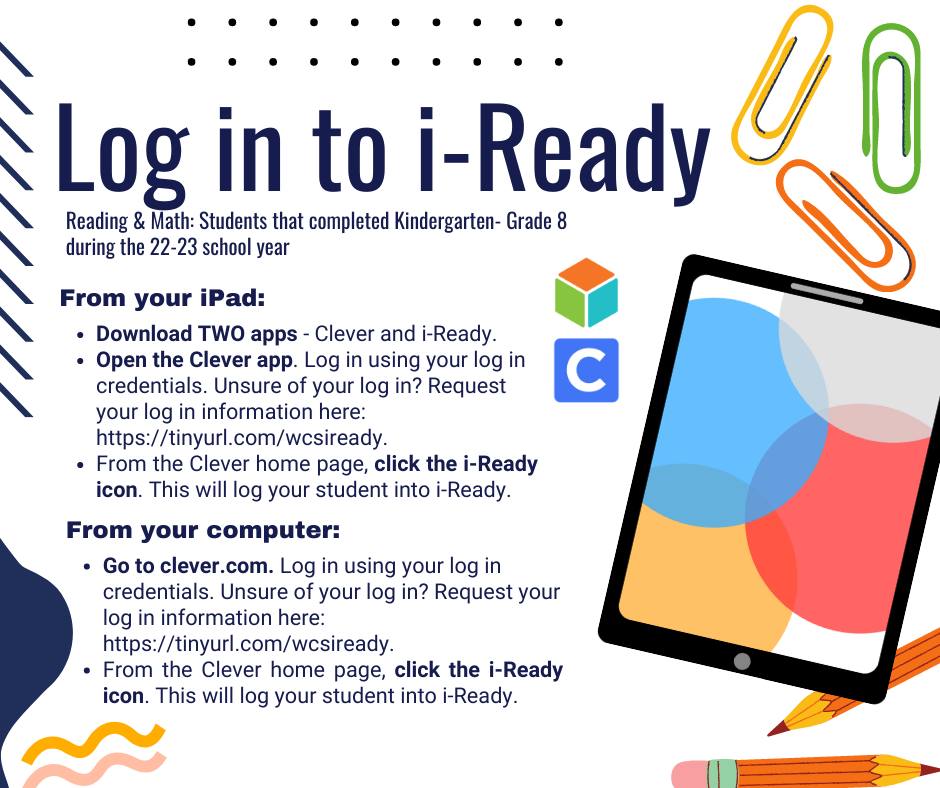 Thank you for all the love and support you've shown these past few weeks for our Wood County Schools educators and staff! Your kind words are needed and cherished. This has been a wonderful school year and we are blessed to be part of this community! - Michael Erb, WCS Communications Coordinator #WCSEmployeeShoutouts #TeacherAppreciationWeek2023 #WoodCountySchoolsWV #WCSWV